[Documentation based on Version 1.23]
The Sync responses feature will upload your results to your LimeSurvey system - including files. At the customized PRO version of Offline Surveys this happens automatically once Internet is available so you don't need to take care of syncing responses yourself.
Requirements:
The LimeSurvey JSON-RPC API has to be activated (check "4- Enable the LimeSurvey JSON RPC API" at this tutorial).
You have to enter your LimeSurvey admin login details (see #3 below).
An FTP account has to be set up if you also want to transfer uploaded files or image/audio files of the special Android multimedia questions

The FTP account has to point to folder folder limesurvey_root_folder/upload/surveys
Required connection details: Server/host URL, FTP user name and password

For FTP, please note:

only FTPs is supported (sFTP is not)
OfflineSurveys uses default FTP port 21 for connecting to the server.
You can setup your FTP connection to point at an alternative location (other than limesurvey_root_folder/upload/surveys.) If so, You have to then copy the uploaded files manually to limesurvey_root_folder/upload/surveys for the files to be visible on LimeSurvey responses page
1 - Click "Sync" (under Manage Responses)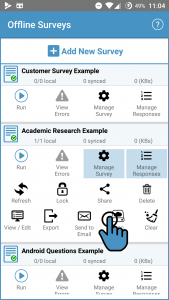 2 - Click "Activate Sync"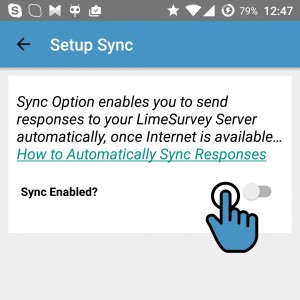 3 - Enter required connection details
At the form shown below you have to enter your LimeSurvey login details (user name and password).
The system will only ask for FTP connection* details if the current survey uses the file upload question or certain Android multimedia questions (voice notes or photos).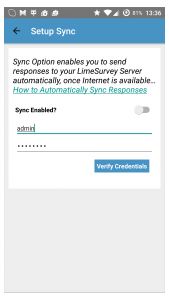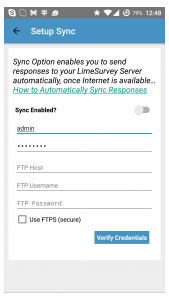 * Note for FTP Connections
We support only FTPs (FTP over TLS) sFTP (FTP over SSH) is not supported